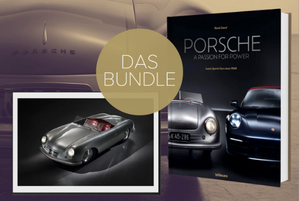 Porsche 75 Years Limited Bundle
Tax included. Shipping calculated at checkout.
As a special highlight I have one of 357 copies limitiertes Bundle with the book Porsche - A Passion for Power: Iconic Sports Cars since 1948 laced:
The jubilee volume with a picture of "Number 1", print 21x30 centimeters on Hahnemühle Photo Rag, framed with a passe-partout in an elegant wooden frame in the format 30x40 centimeters, painted black.