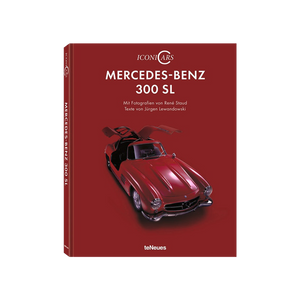 Mercedes-Benz 300SL Iconic Cars
Tax included. Shipping calculated at checkout.
Hard facts and soft skills: in addition to technical data and everything about model development, there are loosely told anecdotes and a lot of interesting things from the lifestyle area

Treat yourself and others: attractive content and an attractive price make this volume a must-have for all gullwing fans and an ideal gift

On the track and on the screen: the success of the 300 SL in racing and its numerous appearances in film and television

The French call it "Papillon". There can't be a nicer and more appropriate name for a car like the Mercedes-Benz 300 SL. The word (from the French term for wing door: porte papillon) contains all the lightness, elegance and poetry that this sports car radiates. The second volume in the IconiCars series explores the fascination of a unique vehicle.

Remarkable coincidence: In addition to the miracle of Berne, 1954 also saw the presentation of the Mercedes-Benz 300 SL at the International Motor Sports Show in New York. Not just two events that were suitable for helping the still young Federal Republic to achieve a significant image boost. Both phenomena also had an effect that went far beyond the moment. The reasons for the enormous success of the 300 SL are complex: on the one hand there is the racing history with victories in the 24-hour race in Le Mans or the Carrera Panamericana. On the other hand, the SL had pioneering technology with its space frame and the first production injection engine. Perhaps even more important: the elegant shape and the futuristic gullwing doors, used as standard for the first time, made it an object of desire and a projection surface for dreams of exclusivity and freedom. Like all volumes in the new IconiCars series, the issue on the Mercedes-Benz 300 SL provides the full program and, at the same time, a fresh approach to the subject: wonderfully aesthetic automobile photography by René Staud and archive photos full of patina, photos of racing successes and of famous owners, interesting facts about the model history to the palette of paint colors. The result is a kaleidoscope that stands out from the usual automotive literature.
160 pages | Format 22.3 x 28.7 cm I 60 photographs I signed author's copy