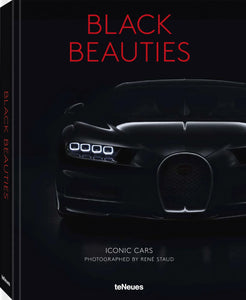 Black Beauties small
Tax included. Shipping calculated at checkout.
Iconic Cars
René Staud, the grand seigneur of automotive photography, has published a new illustrated book. In his coffee table book "Black Beauties", the automotive photographer devotes himself entirely to the color black. In this extraordinary illustrated book, Staud takes car lovers on a journey through time and presents the top models of the world's biggest sports car brands. From the legendary Alfa Romeo 8C from the 1930s to the declared goddess Citroën DS to the fastest open-top series sports car, the Bugatti Veyron Grand Sport Vitesse, the star photographer demonstrates the aesthetics that the color black gives a car.
Staud's photos are characterized by his distinctive style, which is typical of him, and they set the scene for the classic elegance and sporty potency of the vehicles in a unique way. But this impressive photo book not only inspires with its great photos. The texts come from Jürgen Lewandowski, a luminary in car journalism and author of over 90 books on the subject. In addition, comments by Andrea Zagato (CEO Zagato), Gorden Wagener (Head of Design Mercedes) and Stephen Bayley (journalist and design critic) are included, which provide the reader with targeted insider knowledge from the industry.
The coffee table book "Black Beauties" is an exciting homage to the most beautiful sports cars of our time. Anyone who loves design, power and technology will be happy to pick up this illustrated book again and again.
304 pages | Format 24,5 x 31,4 cm